Escapism is an essential aspect of our existence, it provides temporary relief allowing us to recharge and return to our busy day-to-day life with more hope and vitality. If you're wondering what to do this weekend, and don't fancy going to past-visited places, we've got just the right entertainment for you! Whether you choose to visit with your friends, family or go solo, at the Museum of Illusions (MOI) you're sure to have your mind and all senses blown.

One-of-its-kind Museum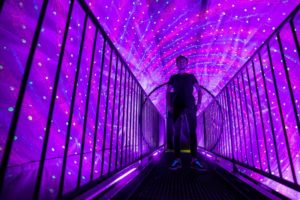 Immerse yourself into the illusions of the Vortex Tunnel, a first of its kind in this part of the world. It will drive you insane, by altering your stance on what's real and what's not. Be prepared to lose your balance, and don't forget to hold on tight. What ensues is a battle of the senses – sight vs touch in this case. Your hands gripping along the bridge reaffirming that the body hasn't moved an inch throughout, whereas the beaming tunnel spiraling endlessly, counters the previous assumption. In the end, you might feel a bit light-headed but wouldn't mind another helping of this thrill ride.
A Perceptual Play

"The more I see, the less I know for sure," said the legend John Lennon, and never has this quote held more truth than for such an illusionary spectacle. Prepare to get your perceptions completely bedazzled with this one. Who would've known that your surrounding environment played a key role in determining how others perceived you, philosophically and metaphorically speaking. Don't believe me? Try this chair for yourself. 
Not Everything is What it Seems at Museum of Illusions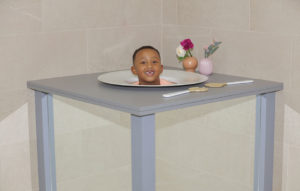 Never knew Shawarma platter would be a thing of the past, ever since the launch of the "Head Platter". One look at such an exciting exhibit and I am sure you'd roll your eyes or scream out loud. But fret not, as things are not always what they seem. Surprise your friends this week with your head on the plate because having a body along with it is too mainstream.
Is size just an illusion?

Don't think so? Then try out this mysterious room, it'll make you question a lot of things. At first, it may look like any normal room, but your size is altered as a function of your position, an excellent opportunity for taking pictures and sharing them with your friends to freak them out.

Here, the Law of Gravitational Attraction Doesn't Exist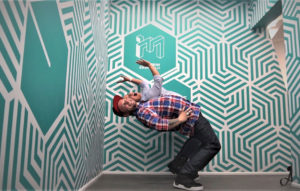 Get ready to have your brain dazzled, with a surface that's neither flat nor slanted. But that's not the only out-of-ordinary thing that you're going to notice, with objects being drawn into the sky, water streaming uphill, things that are beyond expression that you have to witness yourself in the hopes of making sense of it.
Are you interested in art? You will enjoy reading this article.
A Room Where Your Imagination is the Limit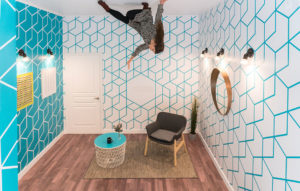 Ever wanted to stand upside-down but the circumstances didn't allow it? Well, now you don't have an excuse. Experience what life looks like from multiple angles, quite literally.
And much more…
We don't want to spoil the experience for you, so hurry and get tickets to this one-of-a-kind museum. Tickets to the Museum of Illusions are available through their main website or you can buy them directly at the museum. 
Tickets costs:
SAR 80 for Adults
SAR 60 for Children
SAR 250 for Family discount (2 Adults + 2 Children)
The museum is open Saturday to Thursday from 10 am to midnight and Friday from 1 pm to midnight.
Location: Click here
________________________________________
Don't miss out on your chance for the ultimate experience at the Museum of Illusions!  
Download Hala Yalla SUPER app for sports, entertainment, culture, communities, and more!