Get ready to embrace a summer of boundless thrills and memorable escapades in the captivating city of Riyadh. With a variety of exciting adventures and vibrant experiences waiting to be discovered, this is your invitation to embark on an extraordinary journey that will redefine your perception of summertime bliss.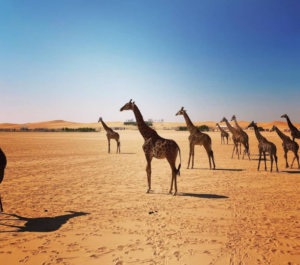 Embark on an unforgettable adventure as an animal lover's paradise awaits at Nofa Wildlife Park, a mere 80 km from Riyadh's diplomatic quarter. Witness majestic creatures like zebras, hippos, giraffes, cheetahs, and more roam freely during an exhilarating safari, followed by a scenic drive through desert landscapes to discover Nofa Golf Resort, Nofa Equestrian Resort, and the enchanting Nofa Walk. Prepare your camera and secure your spot for an extraordinary tour that promises lifelong memories in one of Riyadh's most sought-after destinations.
Price starts from 1,000 SAR.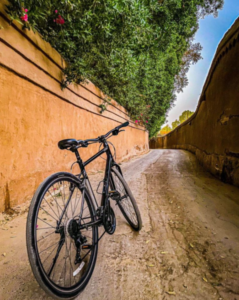 Unleash the adventurer within as you embark on an extraordinary biking experience with Speeds Rental in Diriyah. From its rich cultural heritage to stunning views along the oasis of Wadi Hanifa, pedal your way through time and witness the captivating beauty of Diriyah that will leave you breathless and craving for more.
Price starts from 40 SAR.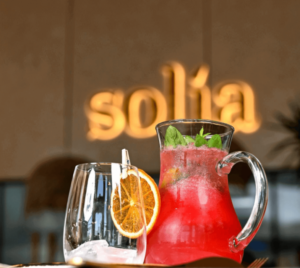 Indulge in a culinary journey like no other at Solia, Riyadh's premier Mediterranean restaurant, where your taste buds will be treated to a delectable feast of mouth-watering dishes meticulously crafted with the freshest ingredients, offering a diverse array of grilled meats, seafood, vegetarian delights, and beyond, all served in a warm and inviting atmosphere adorned with elegant decor, creating the perfect backdrop for unforgettable moments shared with loved ones, while their attentive staff ensures a dining experience that is nothing short of extraordinary.
Price starts from 5 SAR (this is the price to book a table and does not include the meal itself).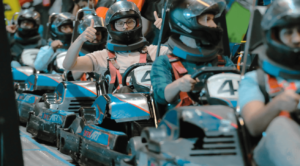 Unleash your need for speed and embrace the thrill of electric indoor go-karting at Doos Karting, Riyadh's pioneering multi-level track, where you can race against fellow motorsport enthusiasts, reaching top speeds and create unforgettable family memories in this exciting and inclusive adventure suitable for participants of all ages and genders.
Price starts from 119 SAR.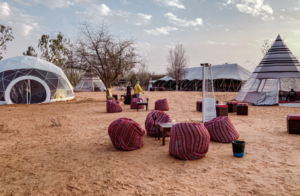 Experience a thrilling and unforgettable adventure at Najdiah Camp, located 95 km from Riyadh, where Ghazi Tours offers an array of activities such as sand surfing, buggy car rides, off-road dune driving, and hiking, followed by relaxation, snacks, dinner, musical performances, and even the option for a memorable sleepover with complimentary breakfast.
Price starts from 300 SAR.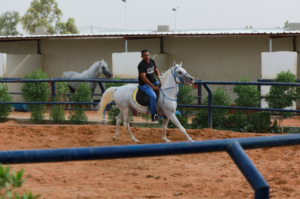 Saddle up and explore the thrill of horse riding in Riyadh at Sultan's stable, where you'll learn riding skills, care for Arabian and English horses, and embrace the outdoors while boosting self-confidence.
Price starts from 1,200 SAR.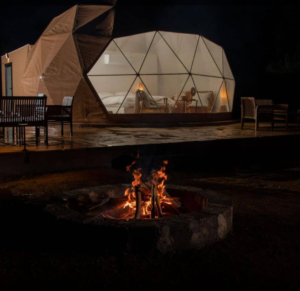 Escape the city's hustle and bustle and embark on a captivating countryside adventure in Riyadh, immersing yourself in the serene beauty of nature, exploring tree farms, green gardens, and scenic parks, while indulging in activities like horseback riding, mountain biking, and hiking, allowing you to unwind amidst the peaceful countryside ambiance, capturing breathtaking photos, and enjoying a refreshing day in the great outdoors under the soothing shade of verdant trees.
Price starts from 920 SAR.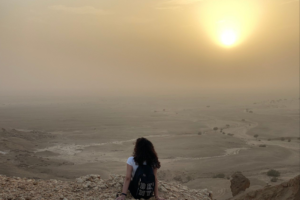 Discover the awe-inspiring beauty and serenity of Riyadh's nature through expert-guided hiking trips, where you'll forge unforgettable memories amidst the breathtaking landscapes that'll captivate your heart and soul. 
Price starts from 897 SAR.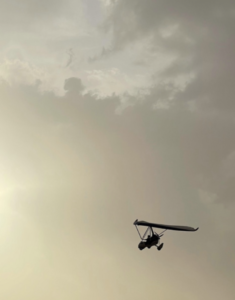 Elevate your senses with an adrenaline-fueled adventure that takes you soaring through the skies above Riyadh, offering breathtaking aerial views of its stunning natural landscapes, from verdant green farms to rolling sand dunes, in an unforgettable 10-12 minute experience that will leave you in awe.
Price starts from 345 SAR. 
As you step out of your comfort zone, immerse yourself in a world of exhilarating fun and unforgettable moments that will redefine the way you enjoy the season.
For other summer adventures, read our other articles: