The weekend is a time to relax and recharge, but that doesn't mean you can't ditch your routine and go on an adventure instead.
This list of 10 experiences in Riyadh will get you off the couch and transport you into a world of fun and possibilities.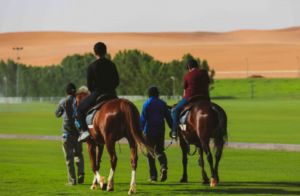 If you love animals or are just looking for an adventure Nofa Wildlife Park will appeal to you. The park is a short drive from Riyadh Just 80 km from the diplomatic quarter. It's home to over 700 animals! In this experience, you'll get to tour on horseback and encounter animals roaming freely only meters away from you.
Price starts from 200 SAR.
2. Open Topped Vehicle Safari at Nofa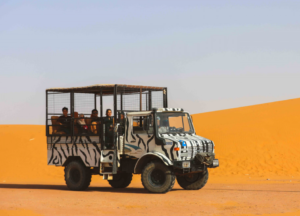 On this exciting safari, you'll tour Nofa Wildlife Park in an open-topped vehicle. The trip lasts approximately 45 minutes, and you'll encounter giraffes, zebras, ostriches, pygmies, hippos and antelopes. You'll then visit the Bird Center where you'll have close encounters with many species of birds. Quench your thirst with complimentary tea and bottled water which are offered at the venue. This experience also has an optional add on which allows you to hand-feed the giraffes at either 10:30 am or 2:30 pm. 
Price starts from 150 SAR.
3. Tik Padel: The Ultimate Padel Destination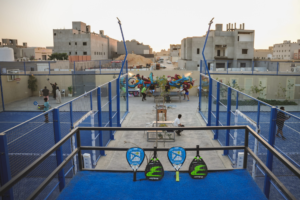 Have the time of your life playing padel at Tik Padel. They'll supply you with rackets so you can enjoy playing on their world-class courts. You'll get to enjoy free cold water and ice cream! They've also got a mist spray system to keep you cool while you play and their toilets are equipped with a shower and changing rooms for men and women. Other games you can play there include table tennis, basketball and foosball. Yalla visit Tik Padel and let the fun begin!
Price starts from 200 SAR
4. Meydan Siham: The First Destination for Archery Lovers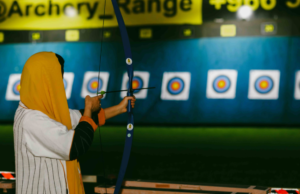 Meydan Siham Entertainment Foundation is the perfect destination for fun. They've got a beginner-friendly archery range that is welcoming for kids as young as six and above. This is a great experience that the whole family can enjoy. You'll receive training about how to hold the bow, position the arrow and release it. There are also prizes to be won for the best shooters!
Price starts from 99 SAR
5. Escape Room: Real Life and VR games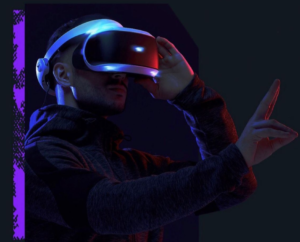 Do you love a good challenge? Get ready to have your wits tested and your entertainment level raised. This escape room puts players in real-life and VR escape games where they must work together in a race against the clock to solve a series of increasingly challenging puzzles. Think you've got what it takes to make it out in time? 
Price starts from 280 SAR
6. WOOSH: Children's Entertainment Center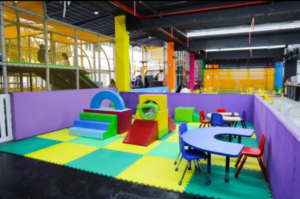 Are you looking for a safe and fun experience for your kids? WOOSH is the perfect place for them to play. They'll enjoy a variety of incredible games, such as an obstacle course, zipline, ninja course, a wonderful slide and much more. 
Price starts from 118.15 SAR
7. Tour Old Riyadh and See the City from the Sky Bridge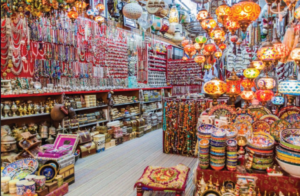 Riyadh may be a modern bustling city, but you have not seen it until you've discovered its old parts, which are filled with history and character. Go on a tour of old Riyadh which starts in the downtown area, where you'll visit the traditional Deira Souk. Next you'll visit the Masmak Museum which is located a short walk from the Old market. To end this amazing tour you'll head to the Kingdom Tower's Sky Bridge to experience exceptional panoramic views of the city!
Price starts from 319 SAR
8. FunXtreme: High-Speed Go Karting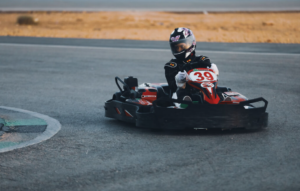 Are you an adrenaline junkie? FunXtreme is the perfect place to satisfy your need for speed. With a long race track of 1500m per lap, you are guaranteed to have a good time. This all-inclusive experience accommodates male and female racers and kids as well. Brace yourself for a thrilling experience in this family-friendly outdoor event.
Price starts from 90 SAR
9.  Motorbike Ride Adventure with Captain Saud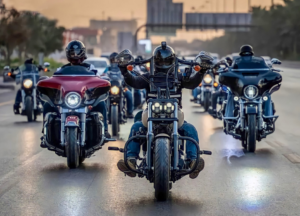 Get your adrenaline pumping with a thrilling motorbike adventure with Captain Saud and his friends. All the protective gear you need to make the best of your exhilarating experience will be provided. Female riders can ride with female captains on this all-inclusive experience. An exclusive photo session is also included in the package so that you can carry your memories wherever the fun takes you.
Price starts from 230 SAR.
10. Biking Tour in Diriyah with Speeds Rental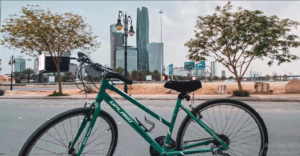 Take your biking to the next level with a thrilling bike tour around Diriyah with Speeds Rental. Don't miss out, enjoy breathtaking views of Diriyah on this amazing ride.
Price starts from 40 SAR.
This boredom-defying lineup will entertain and excite you all weekend, so get out there and start living beautiful unforgettable moments.