Heal your Soul with Yoga in Lockdown. Join Live Yoga Classes
Yoga is not just a fitness routine, it's also a spiritual practice that teaches to open heart and sharpen focus on the question of existence and life. It brings wisdom and enhances the quality of life. 
In this chaotic time, let your soul speak the language of peace. Learn yoga to stay calm in lockdown. Learn different types of yoga from a certified instructor.
About Yoga Instructor
Masheal Fatima is a yoga instructor from India who has been training in Saudi Arabia since 2017. 
Learn yoga from her in a live private session. She will teach these types of yoga:
Hatha Yoga:

Traditionally begins with meditation and breathwork

Vinyasa Flow: The focus is on alignment, breath, and special emphasis on a proper technique that helps you refine your form
Restorative Yoga: A soothing sequence that will make you feel centered and renewed
Yin Yoga: A slow-paced style of yoga, poses are held for longer periods of time to target the deep tissue in the body
Power Yoga: A fitness sequence using bodyweight to build full-body strength
Prenatal Yoga: Helps pregnant women develop proper breathing and relaxation techniques for easier and more comfortable labor
Kids Yoga / Cosmic Yoga: Improves relaxation, concentration, and a sense of calmness
Choose what type of yoga you'd like to practice and click the link below to book the session.
https://hyapp.app.link/1ZkTCWNed6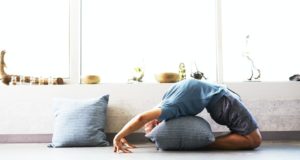 Book one on one live session in just 100 SAR. A secured link will be shared for the live stream before the meeting. For the best streaming experience, kindly ensure your internet connection has a bandwidth of 3.2 Mbps.
Yoga workout at home, join live yoga classes through the Hala Yalla app. Download the app now for more activities of sports, entertainment, food, and much more.